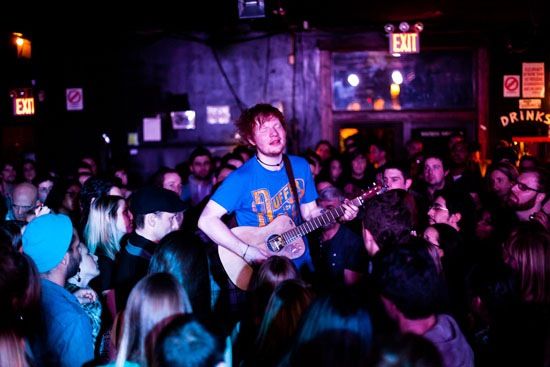 I know most of you know who he is. Ed Sheeran is the new and next big thing in America. Ed has been widely popular overseas, so we are a little late on the bandwagon. Anyway, I love him.
Loveeee him
. His style of music is so unique,and he pulls influence from so many different genres and artists. He written for a lot of artists as well, some examples being T Swift and One Direction. On top of all that, his covers make me love some of my favorite songs even more, and he covers songs a lot. I youtube stalk new Ed Sheeran covers, I wish he would make a cover channel.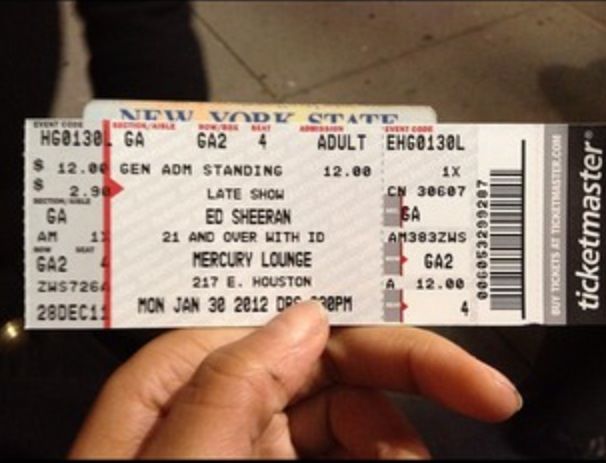 I actually went to his first solo American concert with my sister in NYC and it was amazing. The picture above is from the concert(the second one is mine, the first I found on google). It was a small venue but it was so intimate and special and wonderful and great and life affirming. I wanted to do a list of my favorite Ed Sheeran songs, with links to YouTube to find them. I'm most likely going to start doing that for all my music posts, so it's easier access to great music. Just click the name of the song to go to the YouTube video for it!
These favorites are going to be in random order, it'd be hard to choose which ones I liked more.
Just click the name of the song to go to the YouTube video for it!
1.
Wayfaring Stranger
2.
Kiss Me
3.
Give Me Love
4.
You Need Me, I Don't Need You Live
5.
Let It Out
6.
Small Bump
7.
U.N.I.
8.
Drunk
9.
One Night
10.
You Don't Know(For Fucks Sake) ft.Yelawolf
11. Sofa
I went over the previously prescribed list of 10 but I couldn't narrow it smaller than these 11!!
Obviously I love all of his music, but these are some of my favorite. I really recommend you check him out! If you already love Ed Sheeran, what are your favorites? Do you have some favorites I didn't list? Let me know!!