I love bags. I buy at least one a season and I always want more. Zara makes my absolute favorite bags, I prefer them over most designer ones I see! Just picked this one up from the Zara sale and I'm in loooove. I bought the same bag for
Erica
for our birthday and had been wishing I bought one for myself when I had the chance. So when I saw it in the sale for $30 I new it was meant to be! This bag is small, but I like that. I have a torn rotator cuff so heavy bags have been really doing their damage to me after a long day. On to the contents of my bag.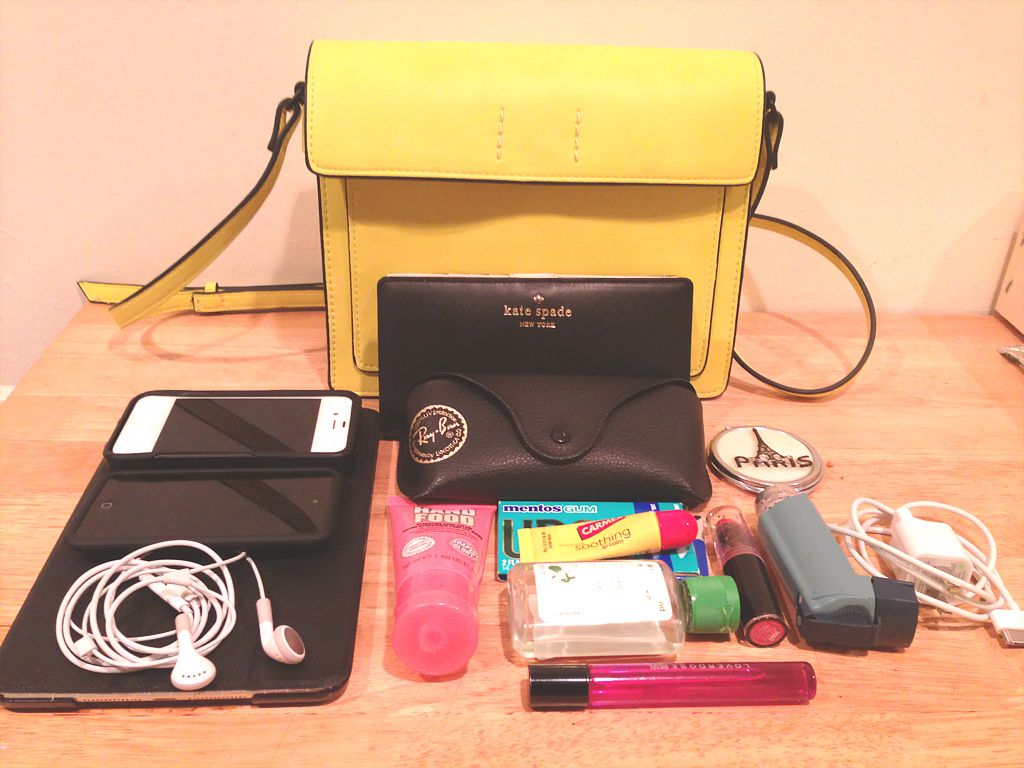 - iPad Mini: An absolute necessity for me. I hate going anywhere without it!
- iPhone 4S: I have an OtterBox Commuter case on it. A bit bulky, but I've never broke my phone!
- iPod Touch: Excessive? Maybe. But I am obsessed with music and my phone can't hold all of it anymore. This is my bf's but he doesn't use it now that he's got an iPhone himself!
- Eyeglasses: They're Ray-Ban tortoise shell eyeglasses. Looking to get a prescription pair of Ray-Ban Sunglasses!
- Kate Spade Tudor City Stacy: New wallet, haven't even had it a day. A super steal, I got it for $51!!! Love mega sales at the Kate Spade store as well as some sweet talking on top(extra 10% off)!
- Hand Sanitizer, Lotion(Hand Food) and Carmex: Necessities. Can't to anywhere without the three!
- Mirror: Gift from Paris
- Wet and Wild "Wine Room": Vibrant hot pink!
- Inhaler, Gum and Phone Charger: I'm asthmatic, sometimes my breath smells and bit and my phone tends to die when I'm going IG crazy. :)
That's all for me today guys! I'm looking for a black bag around this size? Any recommendations?! Have a great day! ♥
Follow me on my social networks, I love making new friends!
IG: @trinawears