Hey guys! I want to apologize or all these themed Music Monday posts. I haven't been looking for new music, which is making these posts harder to write! But I will say, I think these are my second favorite to my outfit posts! I love it writing about my favorites and exposing you guys to music you may have not heard before. Here are my favorites from 2000-2005. Again, way too much songs to choose from, and I've wheedled down to 25. I hope you enjoy them!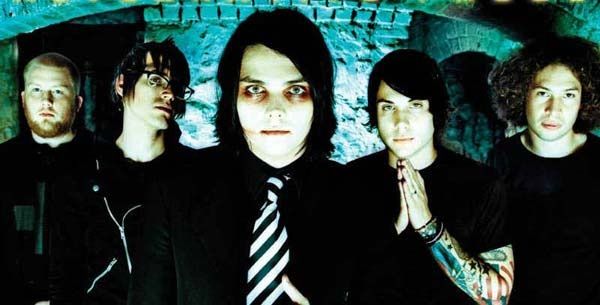 My Chemical Romance. Me and
Erica
met them once on a bus. They said hi, we said hi, and not until we almost got off the bus did we realize who they were, but still didn't say a word to them! Ugh. What a regret, to be young and dumb and fifteen.
1.
Lee Ann Womack - I Hope You Dance
2.
Nsync - Gone
3.
Eminem - The Way I Am
4.
Three Doors Down - Here Without You
5.
Franz Ferdinand- Take Me Out
6.
M.I.A. - Galang
7.
Matchbox Twenty - Bright Lights
8.
Hawthorne Heights - Speeding up the Octaves
9.
Say Anything - Alive With The Glory of Love
10.
Fall Out Boy - Of All The Gin Joints in the World
11.
Panic At The Disco - There's a Good Reason These Tables Are Numbered Honey, You Just Haven't Thought of It Yet
12.
The Spill Canvas - All Hail The Heartbreaker
13.
Smile Empty Soul- Bottom Of A Bottle
14.
Jimmy Eat World - Sweetness
15.
Linkin Park - Crawling
16.
Seether ft. Amy Lee - Broken
17.
Paramore - Franklin
18.
The Higher - Valentines Delay
19.
The Red Jumpsuit Apparatus - The Grim Goodbye
20.
Crossfade -Cold
21.
My Chemical Romance - It's Not a Fashion Statement, It's a Fucking Deathwish
22.
Justin Timberlake - Cry Me A River
23.
30 Seconds to Mars - Was It A Dream
24.
Trapt - Echo
25.
Sara Barellis - Gravity
EDIT TO POST: Anything Underoath made up until 2005 should be on here. I can't believe I could forget them. One of my favorite bands ever. Didn't want to tamper with my original list though!
Again, not too much pop music, but I'll get to that eventually. Rock music is really where my heart lies. I'm partial to it, especially when I'm forced to only choose a few. Soon I'll do the 2006-2010 edition!
Please tell me your favorites from 2000-2005, and your current favorites for right now! I'm desperate for new music!
♥