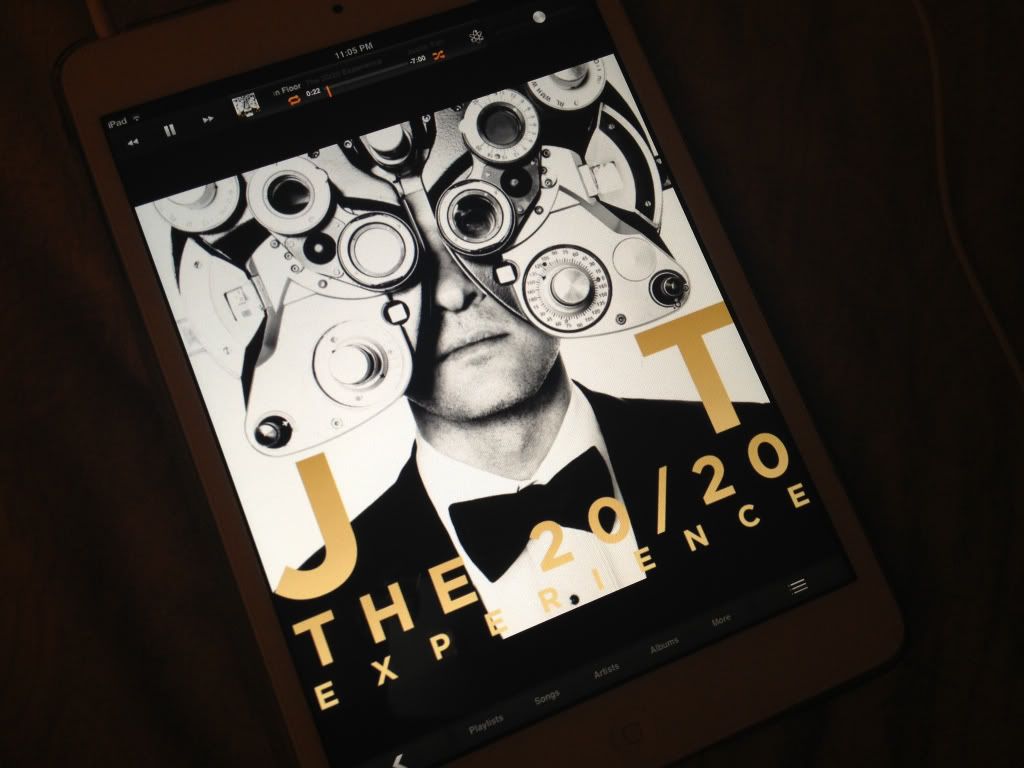 My iPad Mini has been blessed with the glorious sounds of this Tennessee kid!
Yeahhh. So that stuff about checking out new music and scanning Pandora kinda never happened. The Cab's album is on my 'to listen' list but I was swept away by something else this past week. Some
glorious soul
horrible person leaked Justin Timberlake's album, The 20/20 Experience. And it is AMAZING. Its all I've listened to for 7 days. Now, I hatedddddd Suit and Tie, and I still do, but he redeemed himself with the rest of the album. The tracklist has been out for about a month and anticipation has been through the roof. Im a long time JT fan, so this was very exciting for me. It's quite a short album(10 songs), but the 7-8 minute tracks make up for the petiteness. The album definitely has a southern soul vibe that bleeds through it. Only Justin could make these soul filled tunes that are so very non current, but so perfect and unique. Justin also pays homage to his hometown of Memphis, Tennessee in this album, even calling himself and his band/backup singers "JT and the Tennessee Kids". The stage props for his live performances have a old school sophisticated vibe that I love. It's just great. I would love to post links but his label is doing a great job of keeping these songs off of of YouTube until the actual release date, which is March 19th, for you unlucky souls who haven't gotten it yet! I did find a few live versions though. Go have a listen! There's even rumors for another album later this year. I die!
My top 5 of the album:
1.
Pusher Love Girl
(w/ Suit and Tie - fast forward to 2:30)
2.
Mirrors
3. Don't Hold The Wall
4. Blue Ocean Floor
5. Tunnel Vision
Others he's performed live so far:
Strawberry Bubblegum
*EDIT TO POST: I've heard the Target exclusives now, and Dress On is AMAZING! Definitely a favorite of the bunch!*
Have you guys heard the album? Any favorite tracks? New music for me to listen to? Do you like album reviews? Should I ask less questions?? Let me know!
♥
I love if you'd follow me on my social media outlets. I need more twitter friends!!